You are here
Brendan Rodgers completed a last minute signing with Gamboa
Celtic's Brendan Rodgers was able to add CristianGamboa on August 30, which was one of the last few days in which the summer transfer window remained open before eventually shutting down only 1 day later.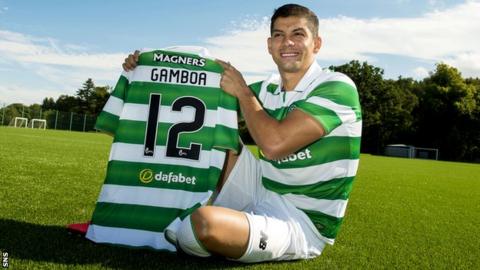 Gamboa is one of the few truly defensive players that Rodgers signed during the summer transfer window as the Northern Irish coach has mostly been signing midfielders more than anything else.
CristianGamboa is a 26 year old Costa Rican footballer who previously played for West Bromwich Albion but he failed to make consistent performances with the English club and Gamboa was mostly dropped to the sidelines with only a few minutes of playing time on certain matches.
After his transfer to Celtic FC was officially completed, the Costa Rican defender revealed details concerning his decision as to why he decided to join the team of Brendan Rodgers and Gamboa stated that one of the reasons was because of the attacking philosophy of the Northern Irish coach.
"The manager here at Celtic plays a style that does suit me. That was one of also one of the reasons I wanted to come here.I knew Brendan as the coach of Liverpool and how he liked to play.When you are at a big club like Celtic you have to be attacking all of the time. You need to create and if you start something you need to finish it.

''The supporters always want to go forward. I enjoy playing that way but I have to prove it on the pitch." Recent signing of Brendan Rodgers, CristianGamboa said as he talked about a few of the reasons of why he joined Celtic FC.
The season 2016-17 marks the debut campaign of Brendan Rodgers as he replaces Ronny Deila and the pressure is on Rodgers for him to defend the Scottish League Championship title which has been won by Celtic for the past 5 seasons.